Neurocognitive mechanisms underlying social atypicalities in autism: Weak amygdalafs emotional modulation hypothesis



(Sato, Uono, & Kochiyama: Front Psychiatry)




Autism spectrum disorder (ASD) is a neurodevelopmental condition associated with atypicalities in social interaction.
Although psychological and neuroimaging studies have revealed divergent impairments in psychological processes (e.g., emotion and perception) and neural activity (e.g., amygdala, superior temporal gyrus, and inferior frontal gyrus) related to the processing of social stimuli, it remains difficult to integrate these findings.
In an effort to resolve this issue, we review our psychological and functional magnetic resonance imaging (fMRI) findings and present a hypothetical neurocognitive model.
Our psychological study showed that emotional modulation of reflexive joint attention is impaired in individuals with ASD.
Our fMRI study showed that modulation from the amygdala to the neocortex during observation of dynamic facial expressions is reduced in the ASD group.
Based on these findings and other evidence, we hypothesize that weak modulation from the amygdala to the neocortex--through which emotion rapidly modulates various types of perceptual, cognitive, and motor processing functions--underlies the social atypicalities in individuals with ASD.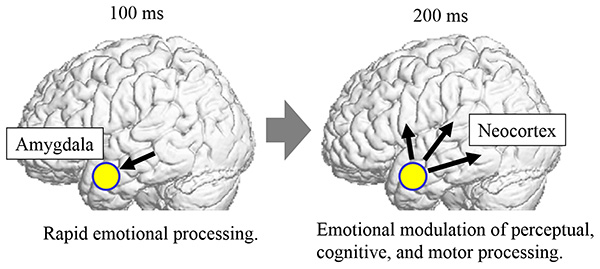 Return to Recent Research.
Return to Main Menu.